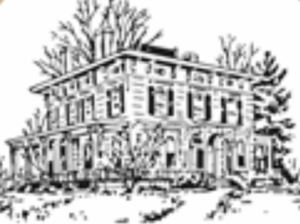 Women's City Club
Is a 90 year old social club organized in 1932
Frances Lubbe, Mrs. Alfred Castle, and others who had talked with Mary Bull, consulted with Mrs. Benedict about the possibility of saving the place for community use. One June Monday in 1932, a small group of men and women met on the south porch of 1550 Maine and looked out at the stakes that divided the lawn into narrow lots 150 feet deep, fronting on Maine, Jersey and Sixteenth streets. The trees, flowering shrubs and brick paved drives were to be grubbed out and leveled off, to make way for a bungalow development, maybe a gas station on the corner. The Lorenzo Bull family had loved and tended their home for 75 years. It was beautiful. Quincy couldn't afford to see it destroyed. Money was scarce in that little group on the south porch, but determination and zeal were adequate.
A headline in The Herald-Whig, June 9, 1932, tells what happened. "THE BULL HOMESTEAD WILL BE PRESERVED BY WOMEN'S CLUBS." The Bull Homestead was not sold at auction Thursday afternoon. The efforts of the women to save this magnificent site for the people of Quincy were successful. The heirs had set $10,000 as the price, insisting that the property was worth more than twice that amount, but that they would make the difference as a donation to the fine purpose for which the site is to be used. Wednesday evening about $4,000 was in sight. Thursday morning, a committee of women set out with a renewed effort to raise the $10,000 before the sale was to be consummated. They got it done. At 2 p.m. a crowd gathered on the Bull estate. The auctioneer announced "There will be no sale today and I hope there will never be a sale. This tract will be kept intact just as it is now!" The bystanders applauded and dispersed in evident satisfaction. Title to the property was eventually transferred to the Boulevard and Park Association, which leased it back to the Women's City Club. Eighty-one years ago, on Sept. 21, 1932, the Women's City Club conducted its organizational meeting, electing Lillian Schlagenhauf as its president. Schlagenhauf was one of the first women attorneys in Illinois, and an Illinois State Senator.
The mission of the Women's City Club is to maintain the mansion as an historically significant structure, to promote social acquaintance among its members, and to make the house available for membership and community activities. As in the time of its zenith, luncheons, card parties, and all sorts of gatherings regularly take place in the mansion.
Both men and women are welcomed as members today in the Women's City Club. For more information, call 217-222-2578
Memberships
Individual      $80.00
Sustaining     $100.00
Friend            $250.00
Patron           $500.00
Life                $2500.00  or $ 500.00 for 5 years
Dues paid by September  1st
Bridge Groups
Cityrama 1
Cityrama 2
Morning Bridge, Duplicate Bridge, Wednesday Bridge